Smoke from California wildfires reaches East Coast as firefighters continue to battle flames
11 August 2018
Published by http://www.foxnews.com/
---
USA – A smoky haze caused by the California wildfires stretching from the foothills of the Sierra Nevada mountain range to Sacramento and San Francisco appears to have drifted as far east as New York and parts of New England.
The National Weather Service revealed Wednesday that smoke from the wildfires has made its way to the East Coast and beyond. A map shows smoke spreading across the country, albeit more than a mile above the surface.
"Another map showed some smoke near the surface even in New England," NWS San Diego said via Twitter.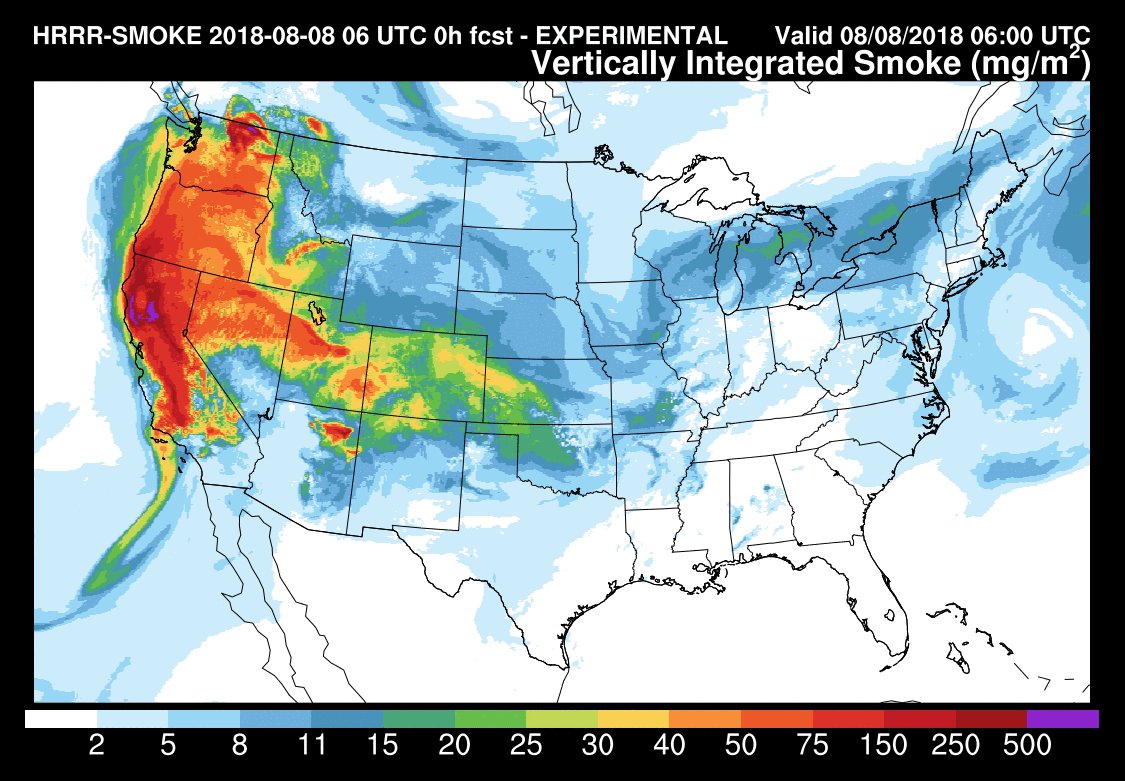 Smoke from the western fires is making it all the way to the East Coast and beyond (at least aloft–mostly above a mile above the surface). Here's the vertically integrated smoke (HRRR model from last night). Another map showed some smoke near the surface even in New England.
Firefighters across California are battling at least three major wildfires that have claimed the lives of eight people, including three firefighters in the Carr Fire near Redding.
On Thursday, Gov. Jerry Brown declared a state of emergency for Orange and Riverside counties as an arson fire in the Cleveland National Forest forced more than 20,000 people from their homes.
The four-day-old fire, named the Holy Fire for the canyon where it started, near Lake Elsinore is devouring brushy foothills, ridgetops and canyons. It has blackened 16 square miles and is only five percent contained.
Forrest Clark, 51, is charged with arson and other crimes and could face life in prison if convicted. It wasn't immediately known if he had a lawyer.
Wind speeds and temperatures dropped as night fell but gusty winds could pick up again Friday afternoon, the National Weather Service warned.
Meanwhile, two major wildfires — one called the Mendocino Complex Fire that is the largest in California history — were burning more than 100 miles north of Sacramento.
Crews have turned a corner and achieved 51 percent containment of the Mendocino Complex — actually twin fires that are being fought together. The fire destroyed more than 100 homes and has blackened an area about the size of Los Angeles.
The fires all grew explosively in the past two weeks as winds whipped the flames through forest and rural areas full of timber and brush that is bone-dry from years of drought and a summer of record-breaking heat.
Firefighters have almost contained a huge fire near Yosemite National Park.
The Associated Press contributed to this report.
---